COVID-19 Travel Restrictions - Perú Travel Information 2022
(Updated March 23th 2022)
Due to the world situation, the Peruvian State has decreed a State of Emergency, which influences health and safety measures for all travelers.
Check this information to have a safe trip and stay in our country.
Please consult by WhatsApp +51 970 506 205 24/7.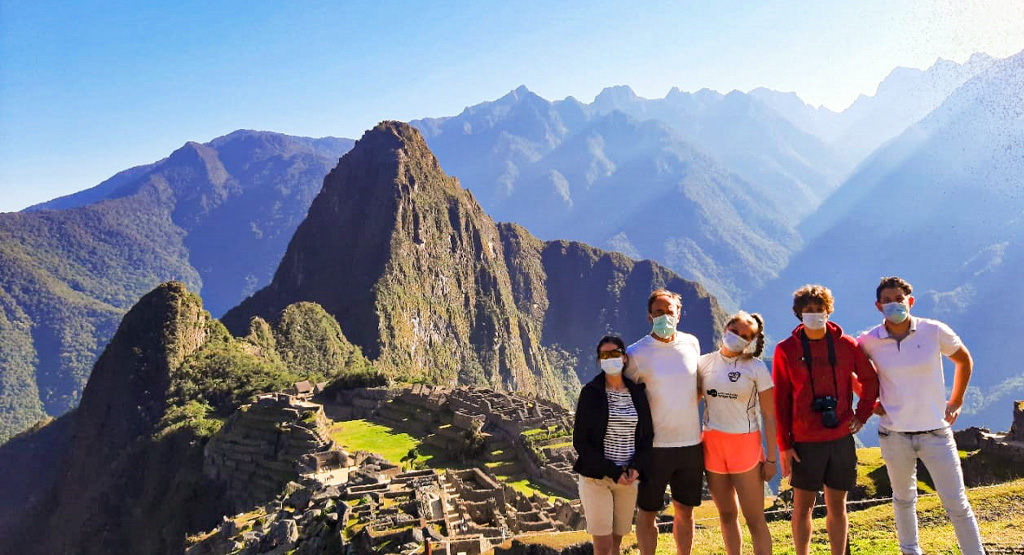 Biosecurity Protocols in trains
New regulations from February 1st 2022
It will be necessary to prove the booster dose for people over 40 years of age; otherwise, you can present a negative molecular test with a result date no more than 48 hours before boarding.
Passengers over 18 years old must present proof of full vaccination against COVID-19 to enter indoor areas
CONTROLS AT THE ENTRY - STATION AND WAITING ROOMS
Passengers must wear a double mask (surgical mask underneath and community mask over it) or a KN95 mask and face shield at all times. Otherwise, access will be restricted.
Upon entry, passengers must disinfect their hands. You will have at your disposal alcohol gel and/or disinfectant solution.
When entering, it must be in order, maintaining a minimum distance of 1.5 meters from other passengers.
The boarding pass and identity card must be carried and shown directly from your cell phone, thus avoiding physical contact.
CONTROLS WHEN BOARDING
Passengers must wear a double mask (surgical mask underneath and community mask over it) or a KN95 mask and face shield at all times.
The staff of train will provide you hand disinfectant prior to boarding.
Luggage and personal items must be disinfected before boarding and you will be informed where they must be located inside the carriage.
Passengers must enter maintaining the physical distance of at least 1.5 meters at all times.
Digital boarding pass and identity card must be on hand.
CONTROLS INSIDE THE BIMODAL BUS AND TRAIN
Passengers must wear a double mask (surgical mask underneath and community mask over it) or a KN95 mask and face shield at all times.
Passengers must sit in the assigned seat and for their safety, once in their seats, avoid moving around.
The introduction and consumption of food and beverages on board is not allowed.
Disposal of the waste will be in accordance with the instructions of the On-board Service staff.
We have an emergency protocol for handling any suspicious case that might arise on board, which includes a COVID-19 emergency kit and a first aid kit.
---
Before your travel
Preparing a trip in times of COVID requires special care, so here are some recommendations for your visit to Perú. Remember that, without these first requirements, your trip may be harmed.
All travelers from the age of 12 will present, before boarding the plane, their vaccination card against COVID - 19 with the completed dose up to fourteen (14) days before their flight. Otherwise, they must present a negative PCR test issued up to 48 hours before shipment.
Children under the age of 12 only need to be healthy and have no apparent symptoms of COVID - 19 to address.
Follow the biosecurity and disinfection protocols with good disposition. If you present symptoms, the control personnel will ask you for your data and will refer you to health employees.
You must not be in isolation period.
Comply with the requirements of the country of destination.
The use of a KN95 mask or, failing that, 1 surgical mask with 3 folds together with a cloth mask is mandatory to circulate on public roads and in closed spaces.
People over 18 years of age will not be allowed to enter premises without their physical or virtual ID card that proves they have completed, in Peru or abroad, their vaccination schedule against COVID-19. As of February 27, the third dose will be required for those over 40 years of age.
At the airport, you must maintain social distance in the facilities and wear two masks.
The "Health Electronic Sworn Statement, and commitment to carry out the traveler's isolation or quarantine", which can be found in the National Superintendence of Migrations webpage.
http://e-notificacion.migraciones.gob.pe/dj-salud/
DEPARTURE PROTOCOL
Welcome to Peru! Now that you are in our country, we suggest you to follow all the protocols and respect the sanitary measures to facilitate your transit and ensure the welfare of all.
Every passenger must carry a disposable surgical mask at all times, face shield or safety glasses.
All passengers must show their identity card. Preferably in a digital way.
You must not present symptoms of COVID-19, if so, you will not be able to travel.
You must not be in isolation period.
Comply with the requirements of the country of destination.
The body temperature will be taken at the entrance of the tourist transport. Passengers with temperature higher than 38°C will not enter.
COVID-PERU FAQS
Has the Inca Trail route opened right now?
We are so happy to announce that tourism is back in Cusco and we are happily back in the mountains hiking to Machu Picchu again. On July 15, 2021, when the government opens the Inca Trail back up to tourists, we will officially be on every route we offer. Despite the government reducing the amount of permits available for the 4, 5 and 7 day Inca Trail treks, there are spaces available for the rest of 2022. We are so excited to welcome everyone back to our wonderful country.
May I trek if I feel sick?
If you have any symptom related to Covid-19 or physical discomfort, you cannot go to the trek. Entry for passengers with body temperature higher than 38°C will not be allowed. You must contact us to reschedule your trek.
How to book my preferred Inca Trail Tour dates?
All 2022 Inca Trail Treks are open now for reservations.
Choose the best date based on your schedule. However, we encourage you to choose dates and book them if you plan to book during high season. This is because Inca Trail permits sell out quickly for the most popular dates as soon as the government releases permits. This is proving true even in 2021 with new protocols for travelers in Peru.
---
We will update this page with relevant information as often as needed with any new information that comes out from Peru's government about travel in Peru.
The Peruvian State has decreed curfews. Depending on the level of risk in the region, this may vary, find out the hours allowed for transit here.
Reservations are Open for ALL 2021 & 2022 Treks!
All treks and tours are open for reservations for 2021 and 2022. If you haven't already rebooked your trek from when the Inca Trail was closed, please contact us so we can reserve a new date. You may reschedule anytime this year or next. Contact us for help with this.