ITINERARY
Day 1: Transfer by ITEP Van, from Cusco to Train station, later train service to Km 104 "Inca Trail Entrance"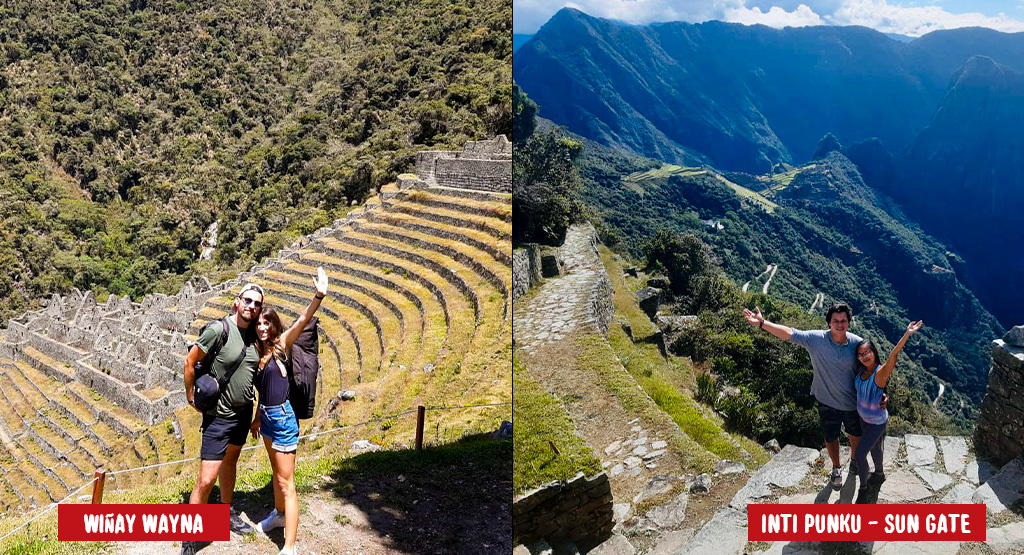 ---
Meals: Box Lunch and dinner.
Accommodation: Hotel, "Camping on request".
Distance: 16kms/10 mls (6 hours more or less of hiking)
Difficulty: Easy/Moderate.
Walking Time: Approximately 6 hours (including picnic lunch en route)
Walk and Terrain: Walk, canter on open roads, some steep ascending
---
Trekking Km 104 "Chachabamba to Inti Punku, the Sun Gate"

Today our trek takes us along the most impressive stretch of the Inca Trail. We'll visit beautiful Inca sites, see a variety of flora and fauna and get to take in the fantastic panoramas of the Andes mountains. Covering 16km of the trail our journey begins in the Sacred Valley and works its way up along an original Inca Trail to the Inca site of Wiñay Wayna before continuing on to Machu Picchu via the Sun Gate (Inti Punku).

As we make our way to Machu Picchu we'll pass through the lush and verdant cloud forest that covers the mountain and get to see a variety of plants, flowers and birds along the way. We may also see some larger mammals such as Viscachas (rabbit-like Chinchillas) and Spectacled Bears (if we are very lucky).

After a full day trekking we'll arrive to the Sun Gate (Inti Punku) in the late afternoon and get our first views of Machu Picchu spread out on the mountain below. The light at this time of day is great for photos because there are few tourists so it's a perfect time to take some pictures of the site. After we've passed through the Sun Gate, we'll carry on along the trail a little way before taking a side trail that leads us to Aguas Calientes, in the valley below where we'll check in to our hotel.
---
---
Day 2: Machupicchu "The Sunrise Experience"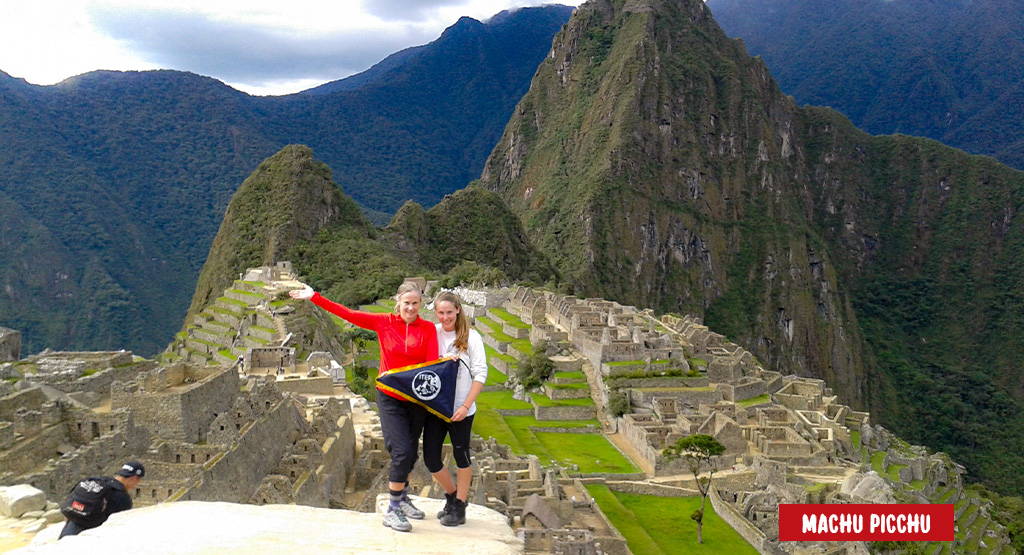 ---
Meals: Breakfast
Distance: 8.9kms/5.5mls "By Bus in 25 minutes"
Difficulty: Easy
---
Waking up early (04:00am) we'll take one of the first buses back up to Machu Picchu to enter the site as soon as it opens (06:00am) we'll have 2-hours guided tour in the site where you'll learn about the Incas and visit all the most important areas of the citadel. After your tour, you'll have free time to explore the site by yourself and if you have permits to climb either Huayna Picchu (2 hours round trip) or Machu Picchu Mountain (3 hours round trip).
You will also have time to indulge in a few of the following activities on your own if you choose (not included in the price)
Climb up Huayna Picchu or Machu Picchu Mountain and appreciate the beauty and magnificence of Machu Picchu from there.
Other optional activities in Aguas Calientes include a visit to the new local museum or bathe in the hot springs.
Back to Cusco: You will descend to Aguas Calientes by bus (included) and later board the Expedition train to the Ollantaytambo Train Station "Train departure time can vary according train schedule and availability". In Ollantaytambo Train station you will meet our private van and be transferred to your hotel in Cusco.
*** Huayna Picchu or Machu Picchu Mountains hike depends on availability; please let us know if you want to add one of these extra hikes at the time of your booking.
*** We only take ITEP EcoTravel clients in our vans / cars – We do not use public transport.
About Machupicchu Hotels:
Please note: Hotels may change (be different accordind your request) depending on booking time and availability; Campsite for Inca Trail 2d/1n also is possible, we just need to follow Machupicchu government conditions or on restrictions undertaken for safety reasons by the Peruvian Government.
---
---
End of our Services
INCLUDES
Pre-departure briefing: You will meet your royal Inca Trail guide and group in our office for an orientation before your trek. The meeting will be at 6:00 PM, the evening before the trip begins. In case you can´t come at this time "please let us know" to coordinate another time.
Touristic Transport: You will be picked up from your hotel in Cusco in the morning and will travel by private transportation to Ollantaytambo Train Station.
Touristic Train Expedition Service: Train leaves from Ollantaytambo Train Station until Chachabamba "Km 104" the starting point of the Short Inca Trail to Machupicchu. Optional upgrade for Vistadome Train at extra cost.
Adventure Experienced Short Inca Trail Tour Guide: English speaking, professionally educated, and official tour guide with tourism certification. They all grew up in this region and have a true passion to teach others about their heritage. Your guide will explain the culture and surroundings along the entire route, including leading your group in ancient ceremonies! He or she will keep you safe and comfortable on your trek so you can enjoy your time along the Inca path and will ensure that you are safe and happy.
Tour Guide in Machupicchu Cultural Experienced: English speaking, professionally educated, and official tour guide with tourism certification. For visit the sacred city of Machupicchu.
Overnight in Machupicchu Village: Each hotel is carefully choosed for having a very local experience "please check options".
Night 2: The 1st night in hotel is not included, which is in the town of Aguas Calientes; it's also known as Machupicchu Village; prices of hotels will vary according to your expectations and budget. However, we can offer you the option of joining us at our local accommodation Hotel Encanto Machupicchu "at no extra cost". Our hostel in Aguas Calientes has double or triples rooms, private bathroom, hot shower, Wi-Fi, breakfast, and luggage storage while you visit Machu Picchu.
Entry ticket to The Short Inca Trail "Sun Gate to Machupicchu"
Entry ticket to Machu Picchu Inka Site
Meals: 1 Lunch, 1 Dinner (Vegetarian, vegan, or special menus are available at no extra cost) Please be in mind (1st breakfast and last lunch after Machupicchu on 2nd day of trek is not included"
Water: Inka Trail Expeditions will supply all the water needed only at our office in Cusco "for your 1st day trek", after you arrive to Machupicchu Village/Aguas Calientes, you will be able to find plenty shops and restaurants. You must supply your own water bottles or camel back. We recommend carrying about 3L worth.
Medical kit and Oxygen bottle: Our crew will bring a first-aid kit, including emergency oxygen bottle.
Train tickets back: From Aguas Calientes "Machupicchu village" to Ollantaytambo train station (departure time is confirmed the day of briefing and it´s subject to availability)
Transfer back to Cusco: Private touristic transport from Ollantaytambo train station to your hotel in Cusco (Day 2)
24-hour guest service: We have telephone service available 24 hours/day for easy communication and preparation with the agency leading up to your trek.
03 Buses Concetur to/from Machupicchu Inca City: Most of the times the wait to board the bus to Machupicchu is from 1 hour to 1:30 min, So we prefer that you decide a day before your visit to the Inca city of Machupicchu. If you wish to take the bus considering the waiting time. Or if you prefer to do the last stretch of ascent walking up 45 to 1 hour "everything will depend on your physical state, after the trekking done".
NOT INCLUDED
Walking Sticks: You can rent a set from our company if you would like.
Climb Huaynapicchu / Machu Picchu Sacred Mountain (+USD 75.00 per person)
Panoramic Vistadome train (+USD 50.00)
Day 1: Breakfast: Approx. 5 usd to 10 usd, Price can vary according your selection.
Meals in Machupicchu village: Lunch and Dinner in Aguas Calientes. Approx. 20 usd to 25 usd, Price can vary according your selection.
Personal clothing and gear
Travel Insurance
Tips for our staff: Please note that our agency staff is well paid so please feel free to tip or not as you wish "Recommendation 6 usd to 8 usd per day per traveler for all the trek staff"- Once again it is optional and can vary according your satisfaction.
Additional costs or delays out of control of the management (landscape, bad weather condition, itinerary modification due to a safety concern, illness, change of government policy, political instability/strike, etc.)
YOU NEED
Original Passport
Day Pack
Full rain gear or poncho
Gloves (thin riding and warm gloves)
Headlamp Sunglasses
Hiking Socks Sunscreen
Insect repellent Bathing suit
Trekking pants
Breathable dry fit top-wear
Comfortable shoes/flip-flops
Cold-weather jacket
Long-sleeve fleece/sweater Wool hat
Hiking boots
Baseball cap, sombrero and bandana
Headlamp Sunglasses
Hiking Socks Sunscreen
Insect repellent
Bathing suit
Casual mountains wear for evenings
Photo/video cameras and chargers
Binoculars
Refillable water bottle (hydration bags are recommended)