ITINERARY
Day 1: Cusco | Cachora - Playa Rosalina (Apurimac River)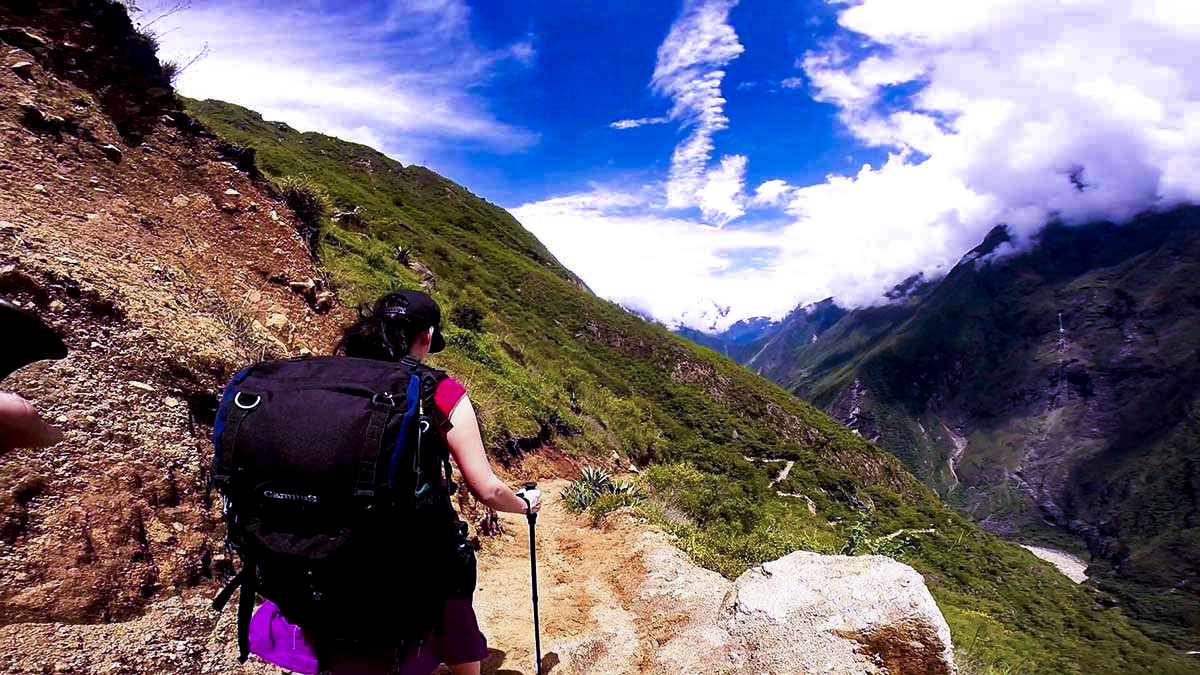 ---
Distance: 22 km – 13.6 miles
Climate: Warm
Hiking time: 7 hours
---
We will leave the hotel very early to arrive at the village of Cachora (2,850 m/ 9,350 f) to meet our staff and guides as well as the horses that will carry the equipment, tents and food for our crossing.
We will continue our trip to the Capuliyoc pass (2,800 m/ 9,186 f). During the tour, beautiful landscapes will catch our sight and accompany us during the hike, and we won't lose sight of the deep canyon and the Apurimac river.
We will go down to the lower part of the canyon named Chiquisca (1,930 m/ 6,332 f), where we will spend the night in our camp.
Climate: Warm / Duration of the hike: 7 hours
---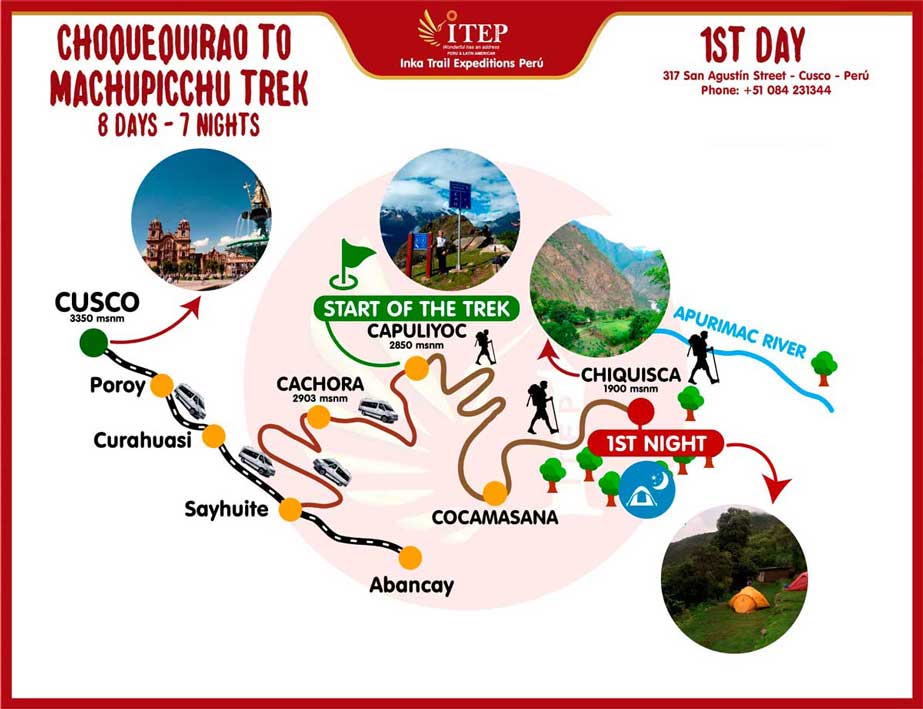 ---
Day 2: Playa Rosalina | Marampata - Choquequirao (Golden Cradle)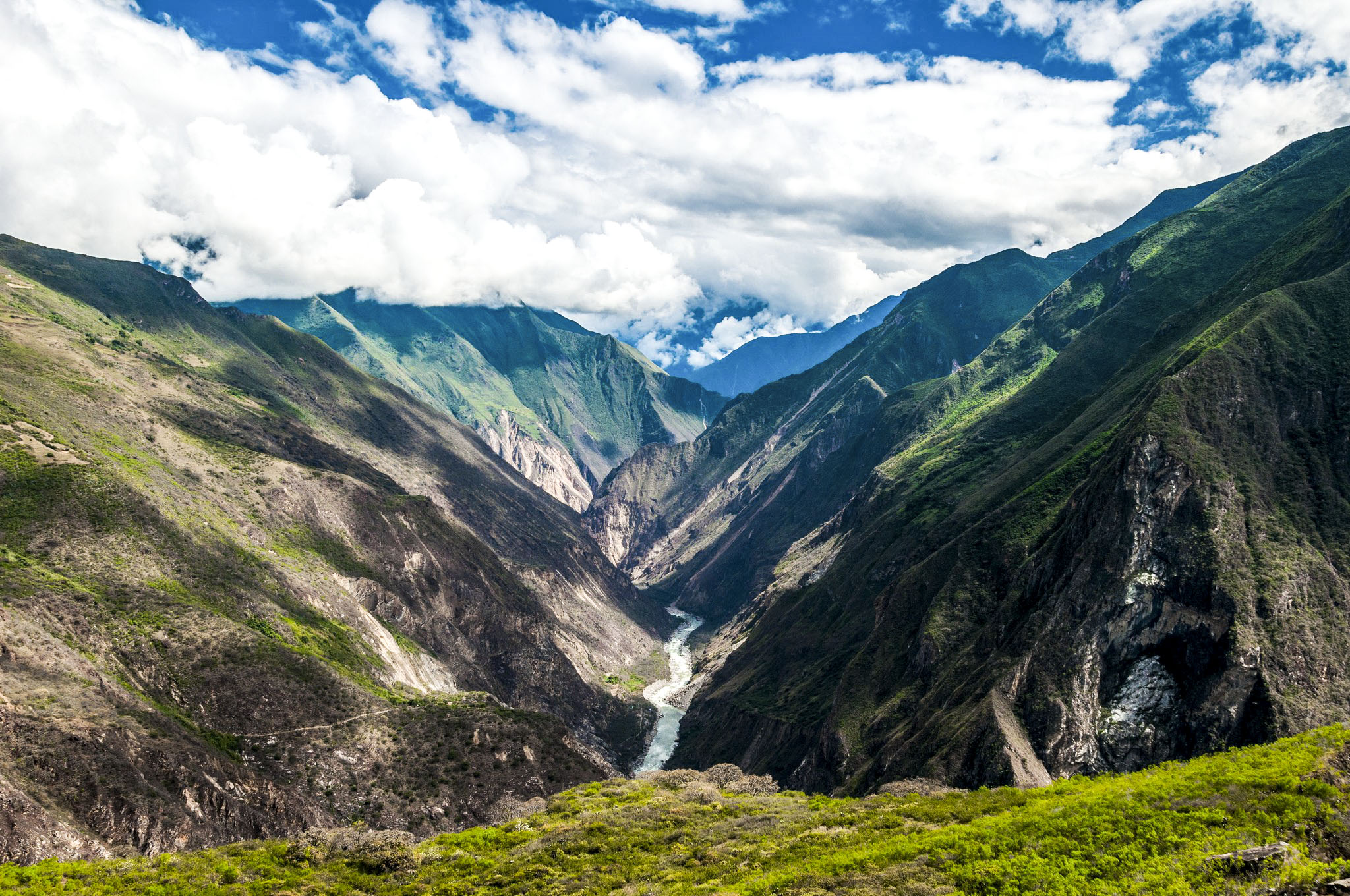 ---
Distance: 14 km – 8.7 miles
Climate: Warm Day/Cold Night
Hiking time: 7 hours
---
After breakfast, we will go down to La Playa Rosalina (1,550 m/ 5,085 f). From there, we will go to Marampata (2,850 m/ 9,350 f), from where we will have a beautiful view of the archaeological complex of Choquequirao (3,033 m/ 9,951 f). Our camp is located 25 minutes away from this place.
---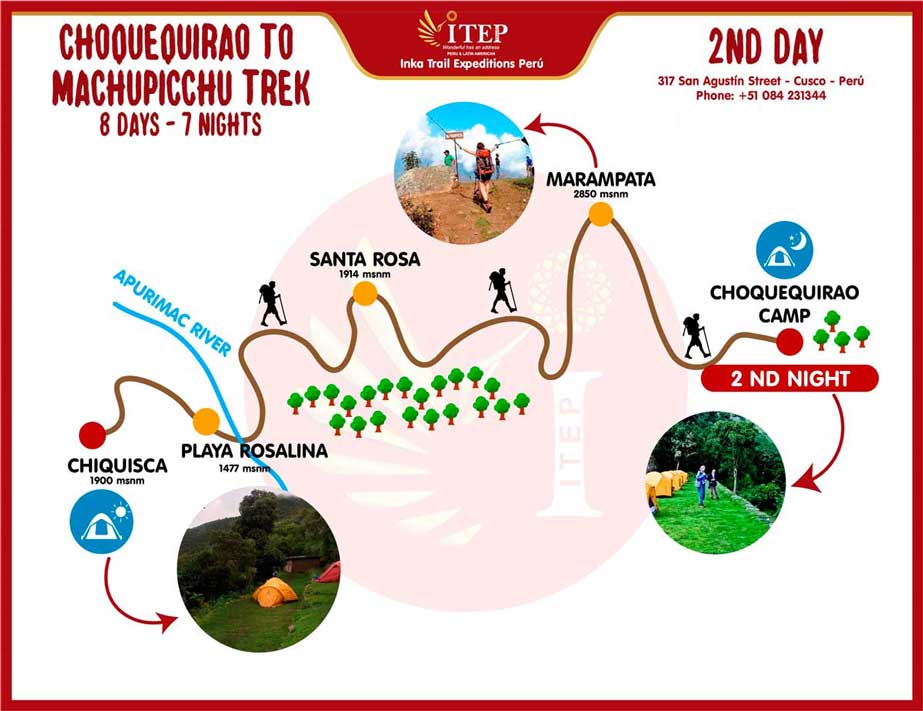 ---
Day 3: Choquequirao | The Choquequirao Pass - Rio Blanco - Maizal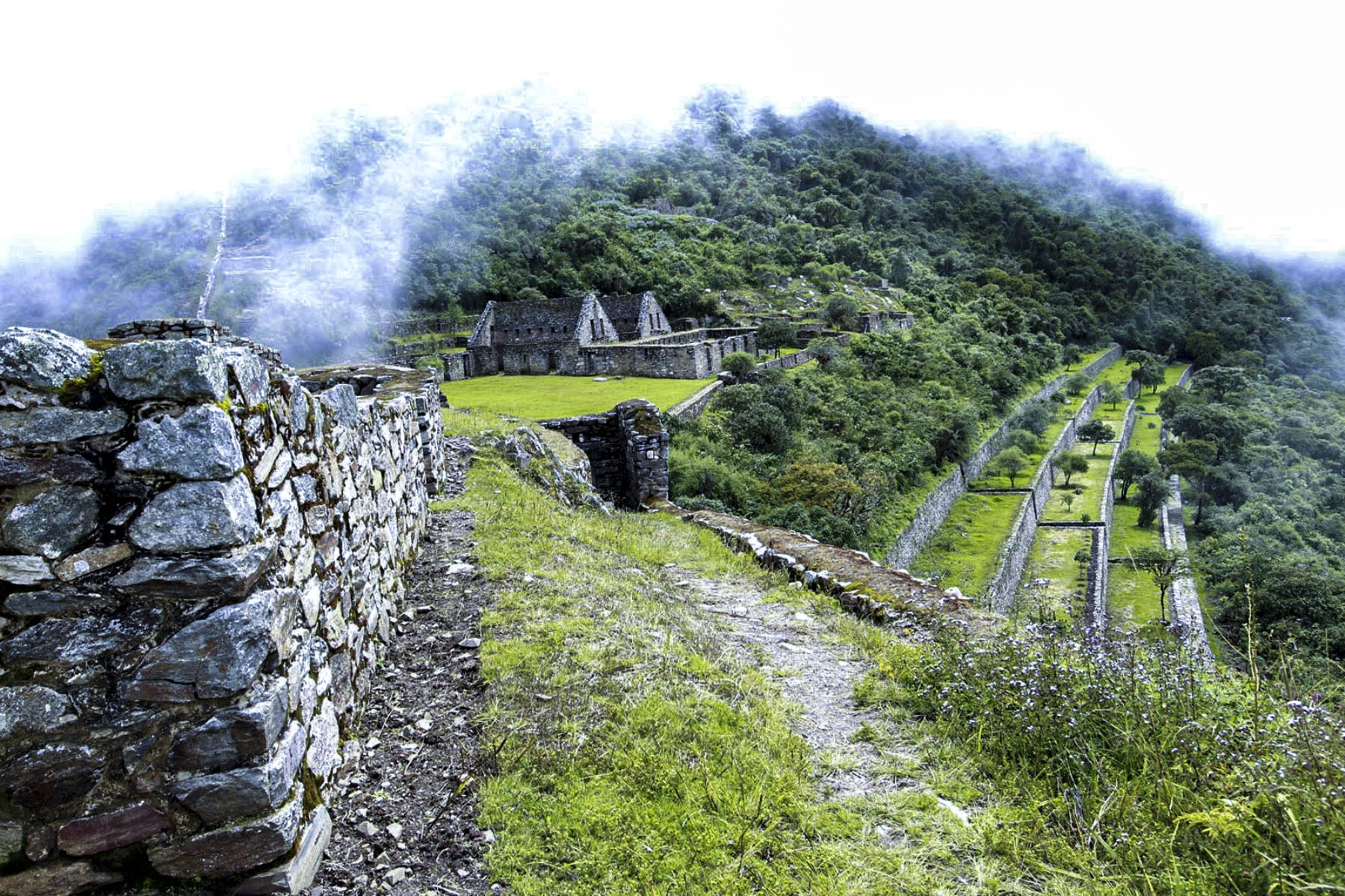 ---
Distance: 18 km – 11.2 miles
Climate: Warm
Hiking time: 9 hours
---
On that day, we will appreciate the tranquility of this magical place, among the fortifications, streets, buildings, terraces and squares. We will continue our hike climbing towards the Choquequirao pass (3,270 m/ 10,728 f), walking through an archaeological zone named Pinchunuyoc (2,450 m/ 8,038 f). From this point, we will come down as far as the river-bed, known as Río Blanco (1,900 m/ 6,234 f) or Río Silvestre. We will camp there.
---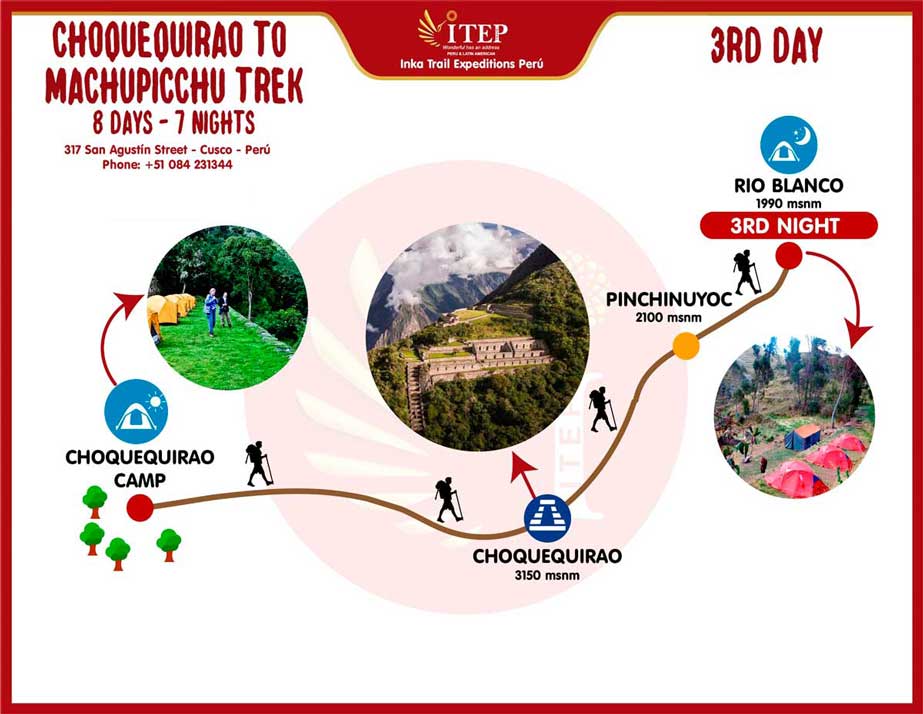 ---
Day 4: Maizal | Minas Victoria - Yamana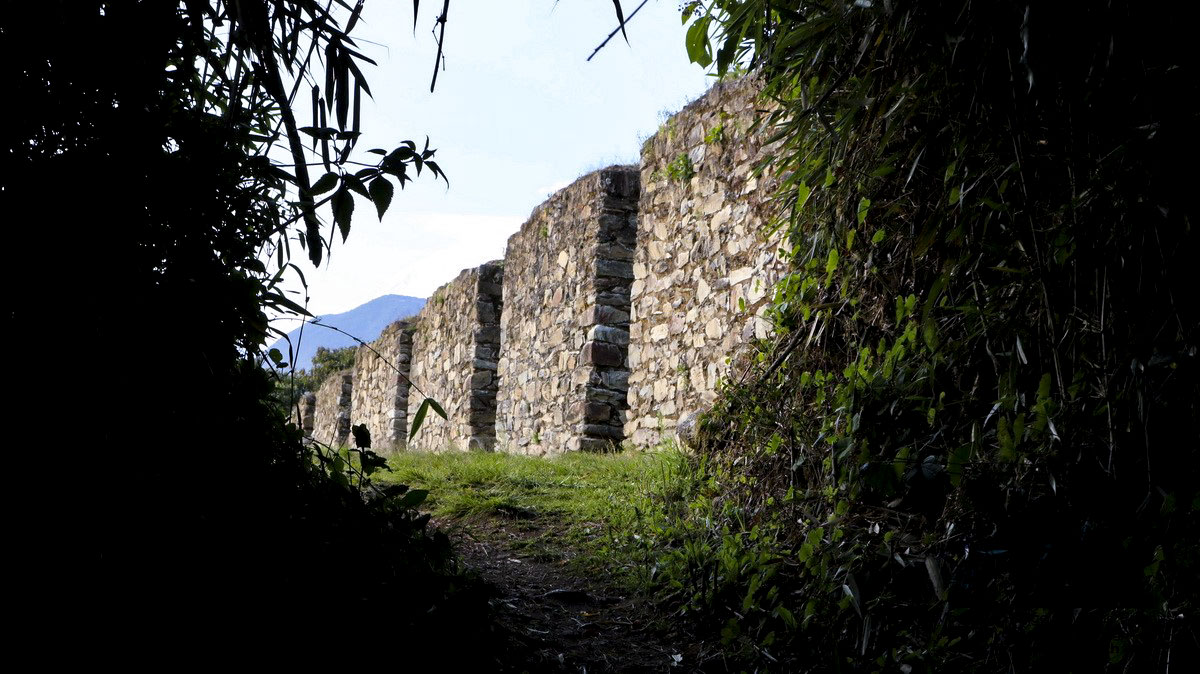 ---
Distance: 17 km – 10.6 miles
Climate: Warm and windy day, Cold night
Hiking time : 8 hours
---
That day will be a difficult one due to the complexity of the ground. We will relax in Maizal (3,000 m/ 9,843 f) for a short rest, and to get our breath without stopping to appreciate the sight of a beautiful landscape. After a several-hour journey, we will arrive at San Juan (4,170 m/ 13,681 f), a pass in the middle of the Andes, from which we will be able to appreciate the great view of the valleys, the mountains and the glaciers, some of which reach more than 5,000 m/ 16,404 f. We will camp in the village of Yanama (3,530 m/ 11,581 f).
---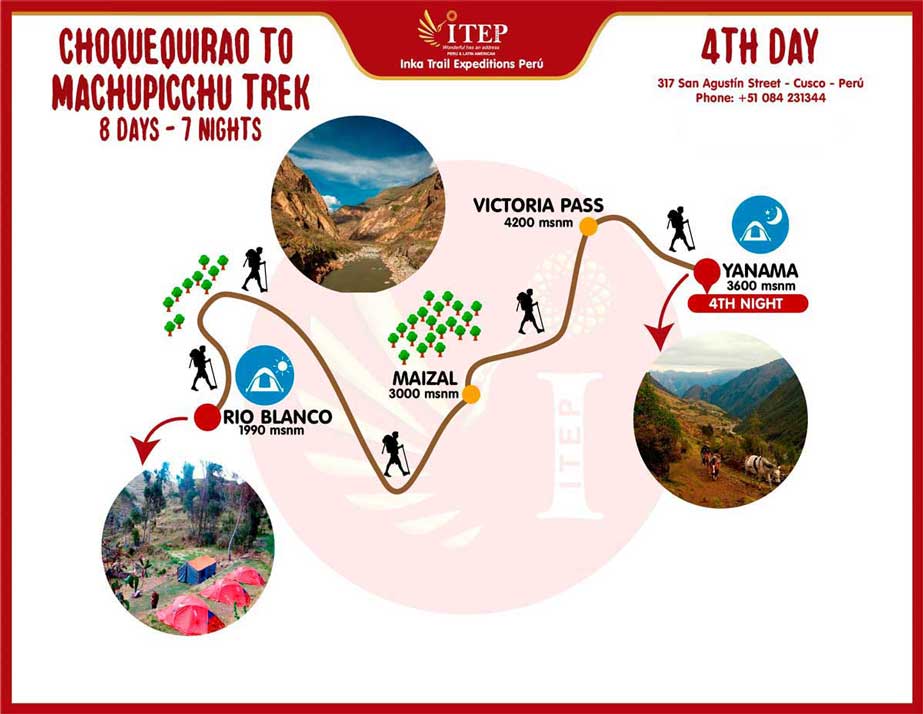 ---
Day 5: Yanama | Mountain Range - Totora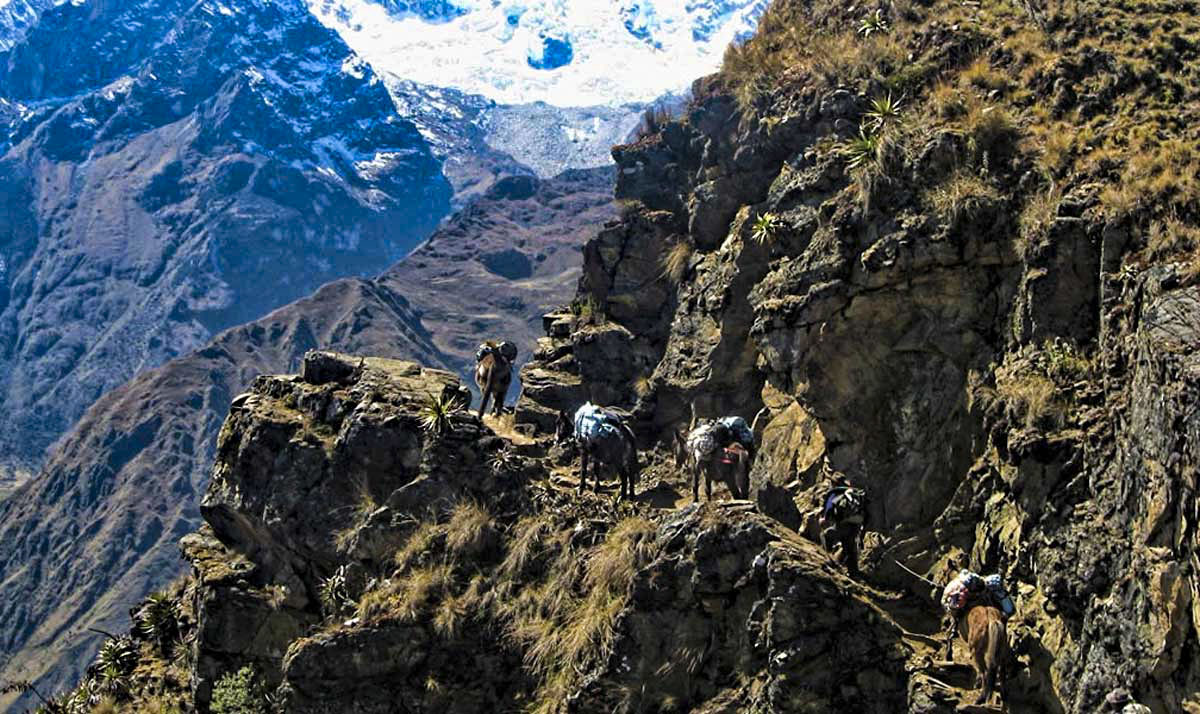 ---
Distance: 20 km – 12.4 miles
Climate: Cold and Windy
Hiking time: 9 hours
---
Early in the morning, we will head towards the highest pass of this trip - Yanama (4670m/ 15.32152 f). If we are lucky, we will be able to see Condors. During the day walk, we will enjoy the view of the snow-capped mountains such as Salkantay (6264m/20.551181 ft.) and Pintuyu (5450m/17.880577 f). Today our camp will be in the valley of Totora Pampa (3200 m/10.4986877 f).

---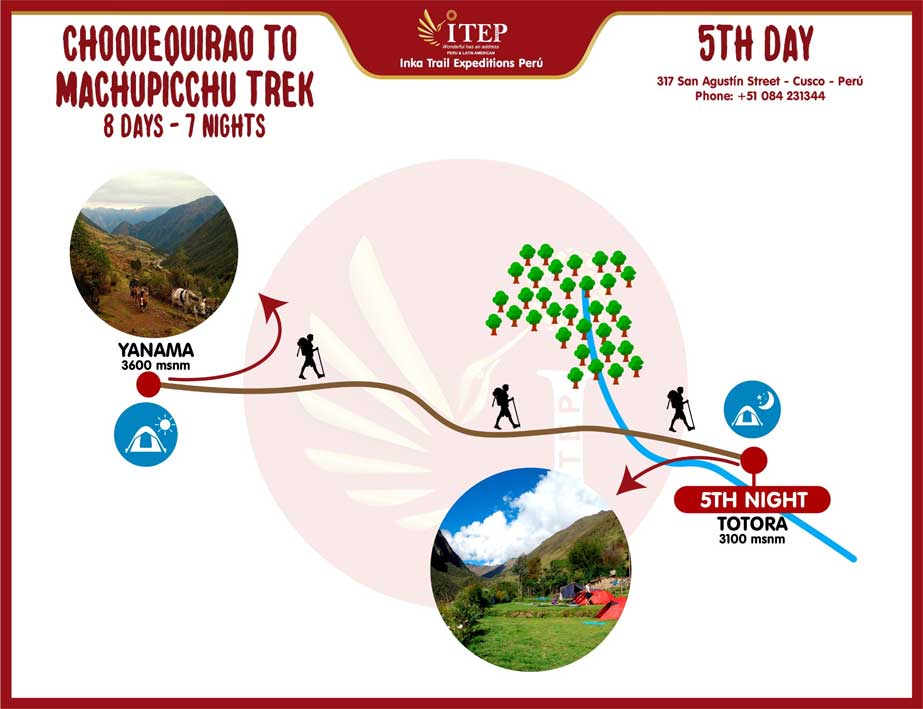 ---
Day 6: Totora | Cloud Forest – La Playa –Lucmabamba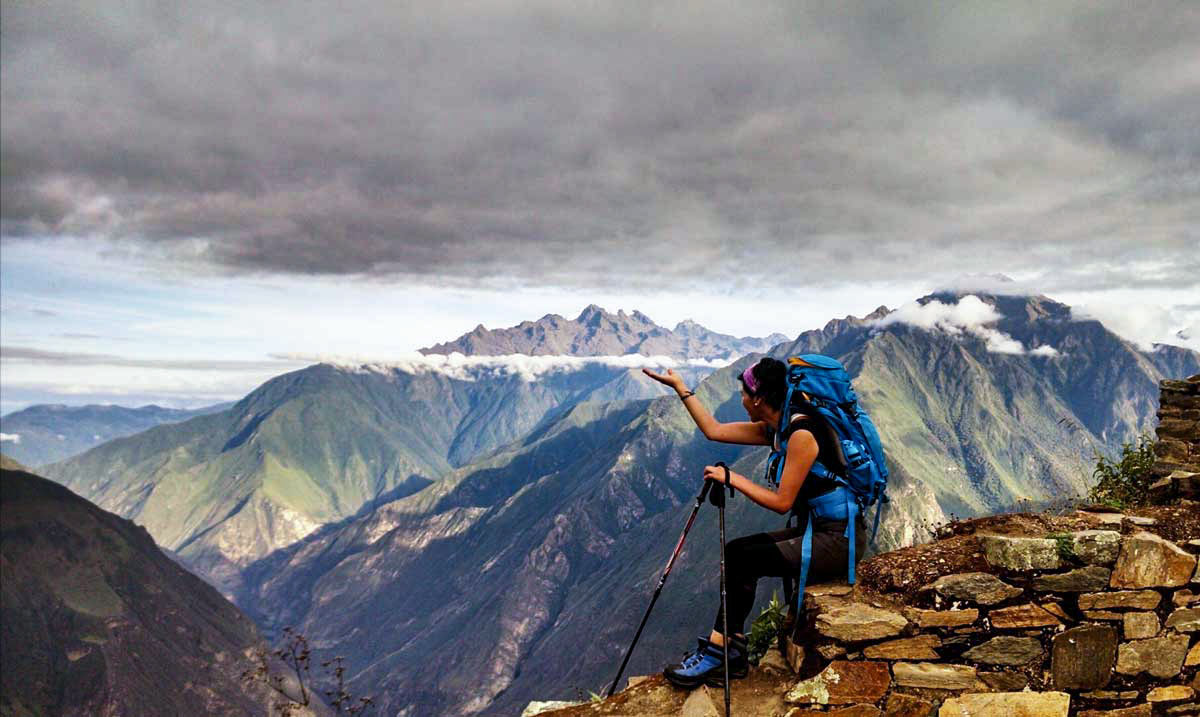 ---
Distance: 18 km – 11.2 miles
Climate: Warm
Hiking time: 10 hours
---
In Totora pampa, we will have the opportunity to know Andean people who speak Quechua and live on agriculture and stockbreeding. The vegetation on the way becomes rarer and rarer and reveals the diversity of orchids, bromelias and other native species. We will also see a few coffee, papaya, passionfruit and avocado plantations. On that day we will camp in La Playa (2,100 m/ 6,890 f) or in Lucmabamba (2,020 m/ 6,627 f).
Note: In accordance with the group wishes, it is possible to change the itinerary and visit the Santa Teresa (Cocalmayo) thermal hot springs (1,830m/6,004f).
---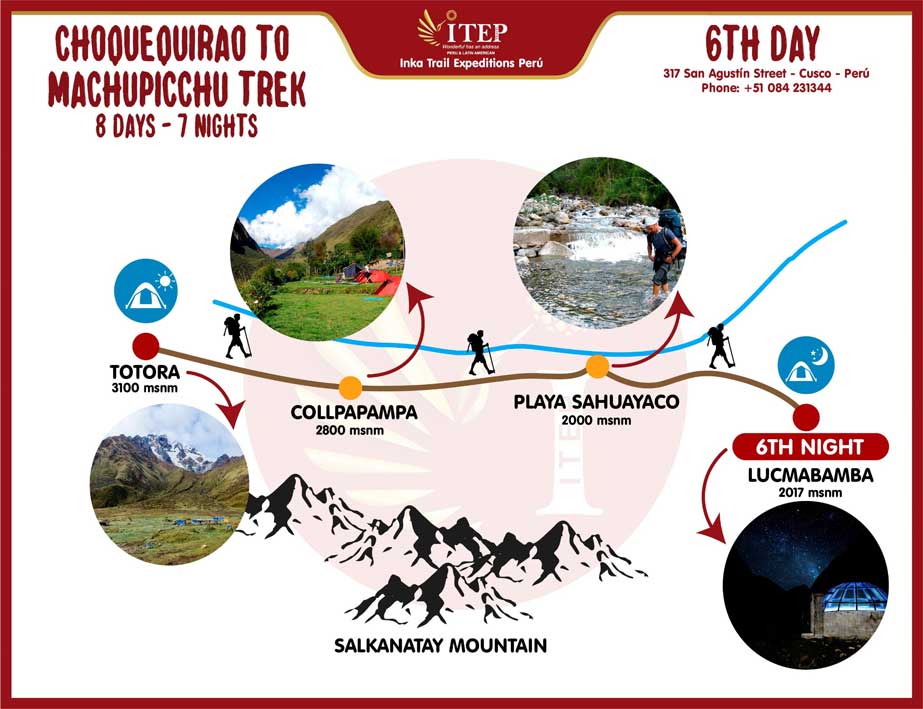 ---
Day 7: Lucmabamba | Llactapata – Hydroelectric – Aguas Calientes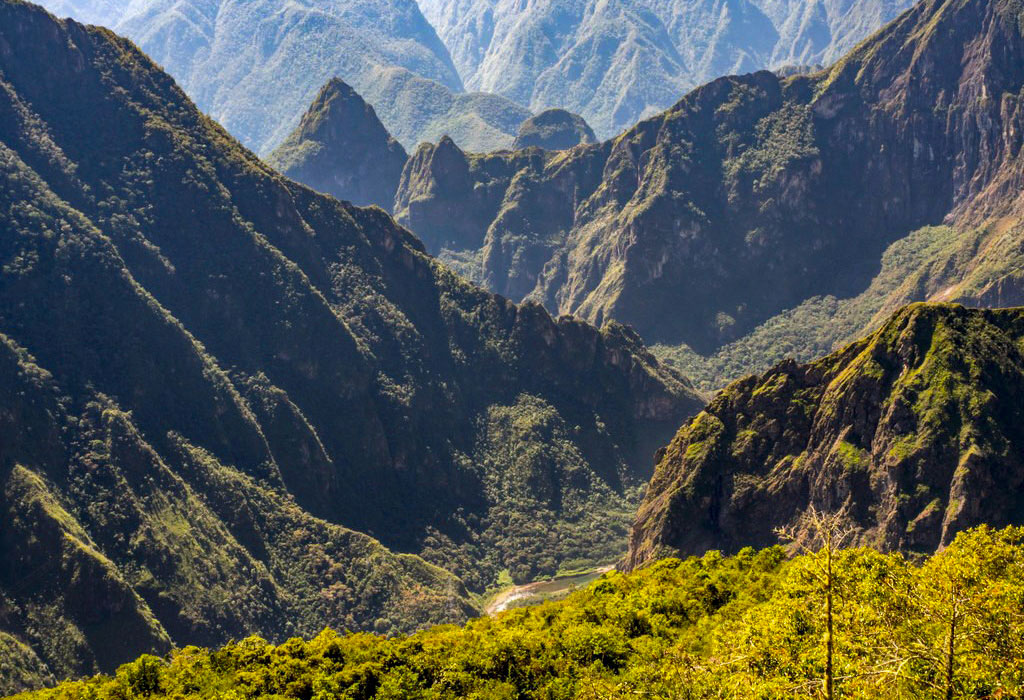 ---
Distance: 10 km
Accommodation in a local hotel.
Climate: warm
Hiking time: 3 hours
---
Our trip will begin early in the morning. We will follow the Inca trail as far as Llactapata (2,650 m/ 8,694 f), an archaeological site with remains of Inca buildings and from which we will be able to have a view of the Machu Picchu Mountain. Our trip continues towards the hydroelectric power station (1,950 m/ 6,398 f), from which we will take the train towards the village of Aguas Calientes (2,050 m/ 6,726 f).

---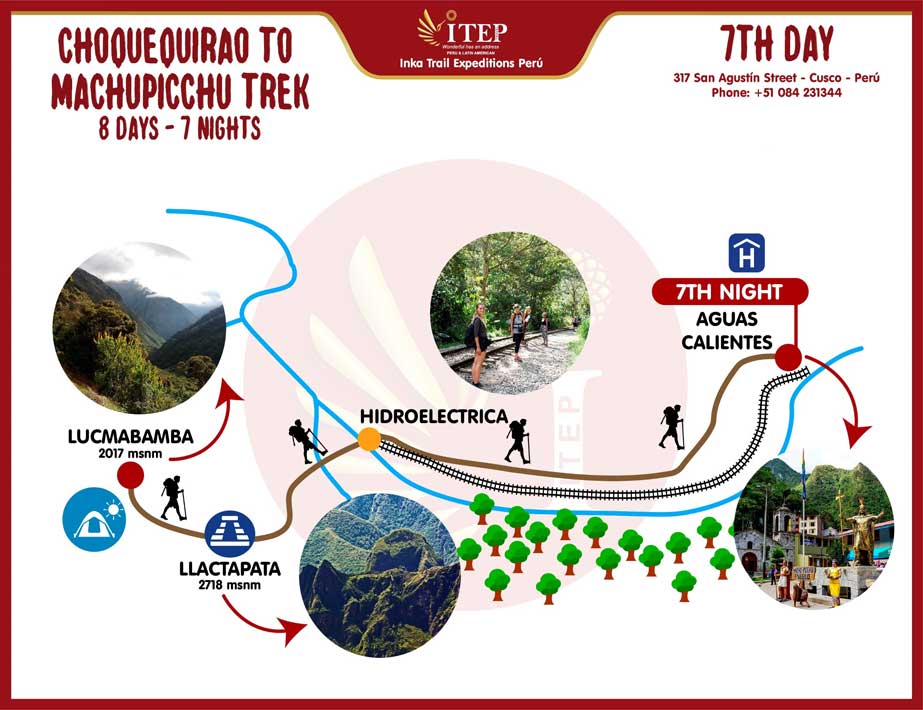 ---
Day 8: Aguas Calientes | Machu Picchu - Cusco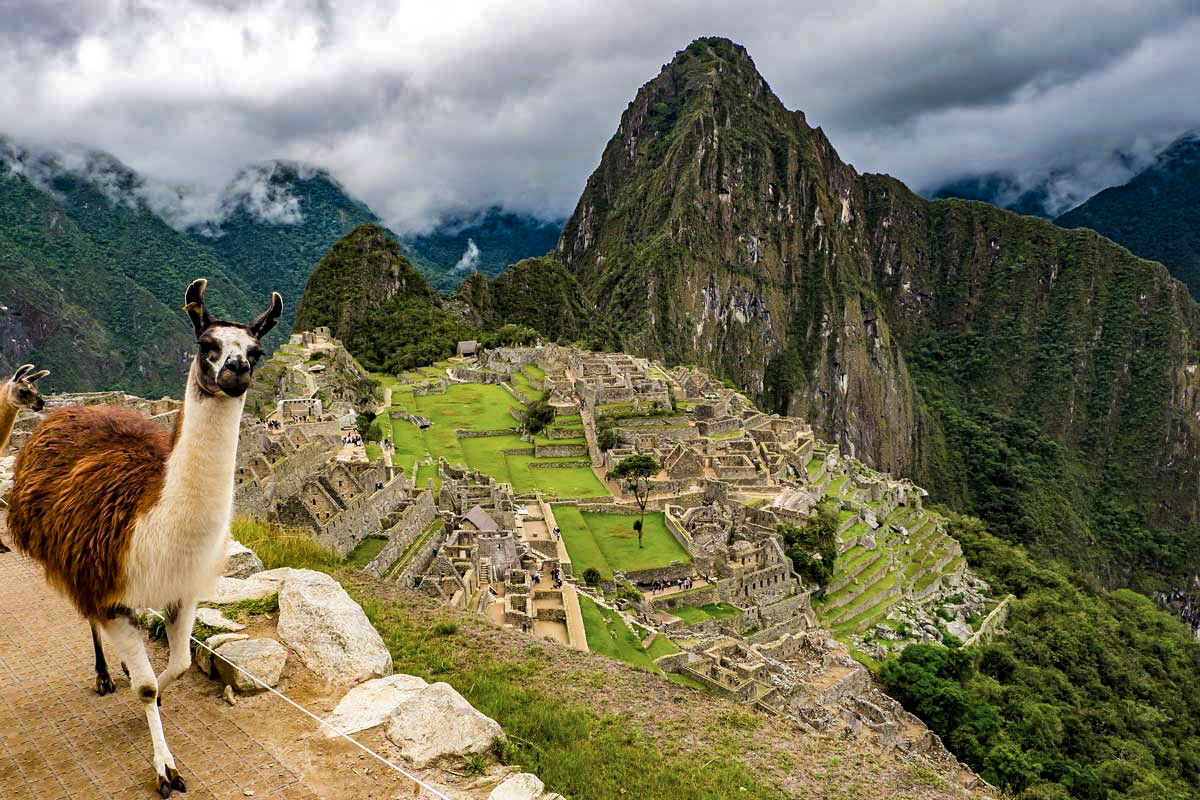 ---
Duration of the hike: 2 hours
---
Today's Highlights: Your excitement for our rendezvous at Machu Picchu will rise as we are hiking early in the morning through the forest to reach the site before most other tourists – even the Inca Trail trekkers!! You will have plenty of time to explore this truly magnificent World Wonder while you enjoy the beautiful sunrise from this once-in-a-lifetime viewpoint. Your group will learn about this mystical place in a two-hour guided tour of the ruins. Afterwards, you can opt to climb Huayna Picchu or Machupicchu Mountain (if you have pre-booked tickets) or walk to the Sun Gate or Inca Bridge (without extra tickets)
On that day, we will leave early after breakfast (5:30 a.m.) and will go up to the Machu Picchu (2,400 m/ 7,874 f) by bus. After a guided tour through the important places of the fortress, we will have time to wander around the site. We will then go down to Aguas Calientes to have lunch (not included), and will have time to visit the hot baths of the village. At a convenient time, we will take the train back to Cusco. Transfer to your hotel.
---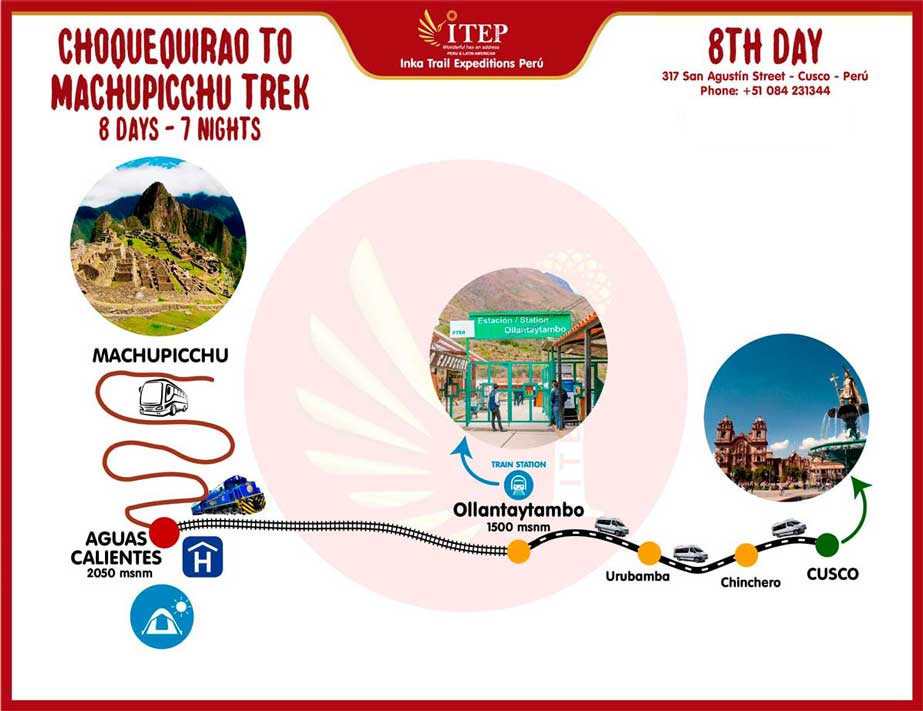 ---
End of our Services
INCLUDES
Pre-departure briefing: You will meet your Choquequirao Trek to Machupicchu" guide and group in our office for an orientation before your trek. At this time, we will provide you with the duffle bags which will be carried by our Porters. The meeting will be at 6:00 PM the evening before the trip begins. In case you can't come at this time "please let us know" to coordinate another time.
Touristic Transport: You will be picked up from your hotel in Cusco in the morning and will travel by private transportation to Capuliyoc the starting point of the trek to Choquequirao and Machupicchu.
Adventure Experienced Inka Choquequirao and Machupicchu trek Tour Guide: English speaking, professionally educated, and official tour guide with tourism certification. They all grew up in this region and have a true passion to teach others about their heritage. Your guide will explain the culture and surroundings along the entire route, including leading your group in ancient ceremonies! He or she will keep you safe, sound, and comfortable on your trek so that you can enjoy your time along the Inca path and will ensure you are safe and happy.
Tour Guide in Machupicchu Cultural Experienced: English speaking, professionally educated, and official tour guide with tourism certification. For visit the sacred city of Machupicchu.
Private campsites: Each campsite is carefully choosed for have a very local experience.

Night 1: Enjoy the 1st night in Playa Rosalina campsite on the route Choquequirao trek and sleep in our 4 season Pro Aconcagua Doite tents. All our tents are 4-man tents, but ONLY sleep 2, leaving lots of room to spread out comfortably and store your duffel bags. They also include a little vestibule in front, giving you some extra outdoor space to leave your boots and walking sticks so you don't have to bring in dirt.
Night 2: Enjoy the 2nd in Marampata on the route Choquequirao trek and sleep in our 4 season Pro Aconcagua Doite tents. All our tents are 4 man tents, but ONLY sleep 2, leaving lots of room to spread out comfortably and store your duffel bags. They also include a little vestibule in front, giving you some extra outdoor space to leave your boots and walking sticks so you don't have to bring in dirt.
Night 3: Enjoy the 3rd night in Rio Branco campsite on the route Choquequirao trek and sleep in our 4 season Pro Aconcagua Doite tents. All our tents are 4-man tents, but ONLY sleep 2, leaving lots of room to spread out comfortably and store your duffel bags. They also include a little vestibule in front, giving you some extra
Night 4: Enjoy the 4th night in Yanama campsite on the route Choquequirao trek and sleep in our 4 season Pro Aconcagua Doite tents. All our tents are 4-man tents, but ONLY sleep 2, leaving lots of room to spread out comfortably and store your duffel bags. They also include a little vestibule in front, giving you some extra
Night 5: Enjoy the 5th night in Totora campsite on the route Choquequirao trek and sleep in our 4 season Pro Aconcagua Doite tents. All our tents are 4-man tents, but ONLY sleep 2, leaving lots of room to spread out comfortably and store your duffel bags. They also include a little vestibule in front, giving you some extra.
Night 6: Enjoy the 6th night in Lucmabamba campsite on the route Choquequirao trek and sleep in our 4 season Pro Aconcagua Doite tents. All our tents are 4-man tents, but ONLY sleep 2, leaving lots of room to spread out comfortably and store your duffel bags. They also include a little vestibule in front, giving you some extra
Night 7: The last night in hotel is not included, which is in the town of Aguas Calientes; It is also known as Machupicchu Village; prices of hotels will vary according to your expectations and budget. However, we can offer you the option of joining us at our local accommodation Hotel Encanto Machupicchu "at no extra cost". hotel-encanto.com Our hostel in Aguas Calientes have double or triple rooms, private bathroom, hot shower, Wi-Fi, breakfast, and luggage storage while you visit Machu Picchu.
Note: It is not usual that campsites, lodges or hotels change after the confirmation, however it can vary per government regulations and authorization, also for bad weather conditions and maybe because physical condition of our visitors: Any changes in this matter ITEP travel will be informing you previously and as soon as possible.

Camping equipment: Dining and kitchen tents, tables, chairs, and cooking equipment (all carried by our porters and horses).
Entry ticket to Choquequirao trail and Inka city
Entry ticket to Machupicchu Inka city
1 Duffle Bag: You can put your personal luggage, up to 5 kgs (11.02 lbs), including your sleeping bag; this bag will be carried by our horses during the 4 days.
Professional Trekking Chef: A professional chef specialized in cooking on the trail, with an assistant, will prepare all of your delicious meals along our journey on the Trail to replenish your energy every day. You will never go hungry!
Meals: 7 Breakfasts, 7 Lunches, 7 Dinners (Vegetarian, vegan, or special menus are available at no extra cost) Please be in mind (1st breakfast and last lunch is not included"
Boiled Water: Beginning from your first lunch until your last breakfast, Inka Trail Expeditions will supply all the water needed. This water will be boiled, filtered and then cooled, before distributing. You must supply your own water bottles or camel back. We recommend carrying about 3L worth. We will refill our waters at each meal.
Wake up tea: Every morning at the campsite, you will wake up with a cup of coca tea! Our staff will bring the tea to your tent so that you will be warmed from inside out before you start your day.
Tea time daily during the Trek: Every afternoon before dinner, the cooks will provide our tea time with popcorn, biscuits, coffee, hot chocolate, teas, hot water, etc. After a long day of hiking, you will not have to wait until dinner to relax, warm up, and enjoy a bite to eat!
Products for hygiene: You will be provided with a small towel before each meal to clean your hands and every morning will be also a bucket with warm water for washes your personal hygiene.
Medical kit and Oxygen bottle: Our crew will bring a first-aid kit, including emergency oxygen bottle.
Train tickets: From Aguas Calientes "Machupicchu village" to Ollantaytambo train station (departure time is confirmed the day of briefing and it´s subject to availability)
Transfer back to Cusco: Private touristic transport from Ollantaytambo train station to your hotel in Cusco (Day 8)
24-hour guest service: We have telephone service available 24 hours/day for ease of communication and preparation with the agency leading up to your trek.
02 Bus consetur to/from Machu Picchu

NOT INCLUDED
Sleeping Bags: You can rent one from our company if you do not have your own. Our sleeping bags are effective and durable to protect from temperatures as low as -18ºC (0ºF). They are mummy form and include a sleeping liner. The bags are cleaned after every use.
Walking Sticks: You can rent a set from our company if you would like.
Day 1: Breakfast: approx. Usd5 to usd 10.00, Price can vary according your selection.
Last Day: Lunch and Dinner in Aguas Calientes. Approx. Usd 20 to 25.00, Price can vary according your selection.
Personal clothing and gear
Travel Insurance
Tips for our staff: Please note that our agency staff is well paid so please feel free to tip or not as you wish "Recommendation usd 6 to usd 8 per day per traveler for all the trek staff"- Once again it is optional and can vary according your satisfaction.
Additional costs or delays out of control of the management (landscape, bad weather condition, itinerary modification due to a safety concern, illness, change of government policy, political instability/strike, etc.)

YOU NEED
Original Passport
Day Pack
Full rain gear or poncho
Gloves (thin riding and warm gloves)
Trekking pants
Breathable dry fit top-wear
Headlamp
Sunglasses
Hiking socks
Sunscreen
Insect repellent
Bathing suit
Comfortable shoes/flip-flops
Cold-weather jacket
Long-sleeve fleece/sweater Wool hat
Hiking boots
Baseball cap, sombrero and bandana
Casual mountains wear for evenings
Photo/video cameras and chargers
Binoculars
Refillable water bottle (hydration bags are recommended)