ITINERARY
Day 1: Cusco - Soraypampa "Humantay lake" – Full Day.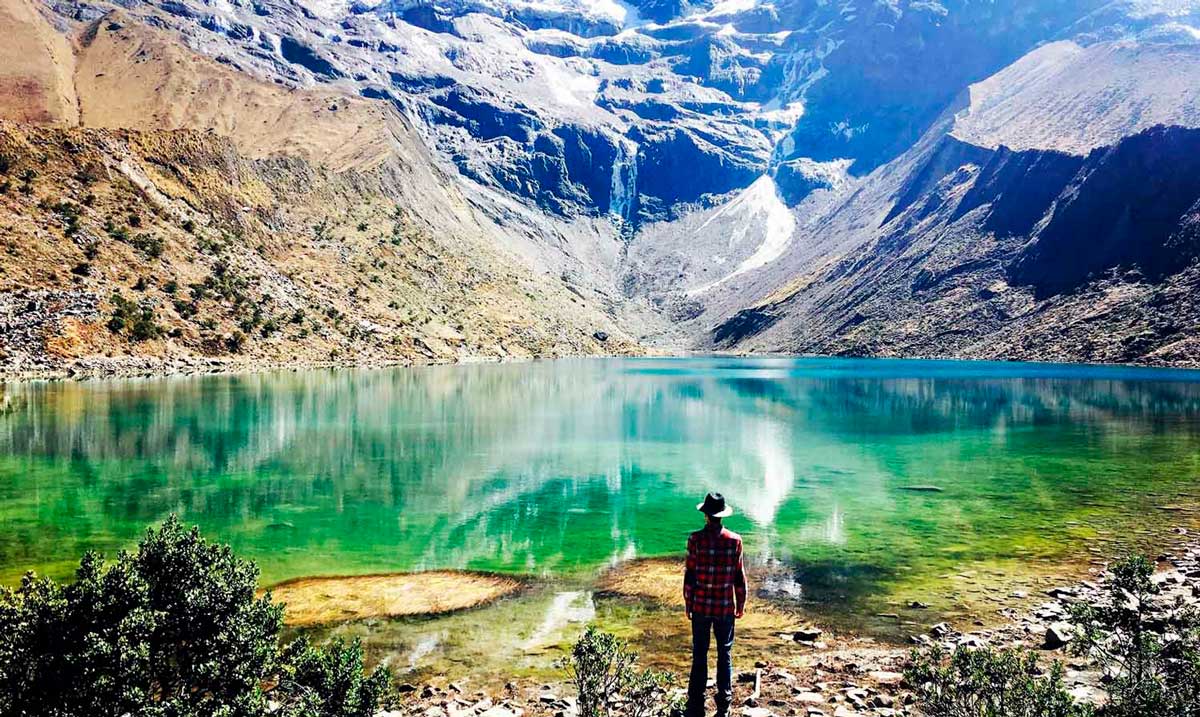 ---
Walking Time: Approximately 3 hours (including a picnic lunch in the route)
Walk and Terrain: Walk, canter, on open roads, some steep ascending trails.
---
Very early in the morning "5am", Pick up from your hotel, we will begin our adventure towards Lake Humantay with a 4 hours private transportation to Soraypampa (3850 masl).
In the route we will stop for to visit Tarawasi.
Tarawasi: In our Way, we visit the Inca ruins of Tarawasi (approx. 1.5 hrs. from Cusco). The archeological complex of Tarawasi is located in the district of Limatambo, providence of Anta (Cusco region), to the left of the Limatambo river and 2675 meters above the sea level. Its name comes from the union of two runasimi words "Inca Language", which would be: "Tara" that means bush and the second one is "Wasi" that means home.
The construction of this complex would have been by Inka Pachacuteq mandate during the epoch of his reign. Due to the structure of the archaeological complex was indicated that was a ceremonial center that is located in the beginnings of Chinchaysuyo, also it is observed the construction a temple which would be found seated on the Ushnu.
A ceremonial altar with a pyramidal shape that was used for important ceremonies and due to its location is indicated that this served as a resting place en route to the Chinchaysuyo.
After leaving Tarawasi, we pass through the mountain village of Mollepata, where we stop for a Breakfast, then continue to Soraypampa.
In Soraypampa we will begin our trek to Humantay Lake (4200 masl) with beautiful views and if the sky is clear enough, we can even see the impressive Apus Salcantay and Humantay (The Apus are the spirits of the mountains).
It is a 1.5 hour walk to the lake with a low to moderate difficulty, but it will be more than worth it when you see the magical view. It is also possible to rent a horse in its place. We will have enough time to take photos, bring an offer to the Apus, and for the true bravest; Swim in the lake when it's sunny! After some free time, we will begin our descent to Soraypampa of approximately 1.5 hours, which is much easier than climbing. In Soraypampa we will wait for lunch and after a bit of rest we will return to Cusco where we will arrive at 6:00 pm.
Includes
Transportation to/from Soraypampa
1 Breakfast
Professional Guide English / Spanish
Entrances ticket to Humantay lake
1 Lunch
First aid kit and oxygen tank.
Vegetarian options / special diet available

Not Included
Extra Horses "Optional 30.00 USD"
YOU HAVE TO BRING
Poncho / raincoat
Warm clothes
A bottle of water
Strong walking shoes / tenis shoes
Suns creen
photographic camera
Extra money for souvenirs, drinks and ADVICE
---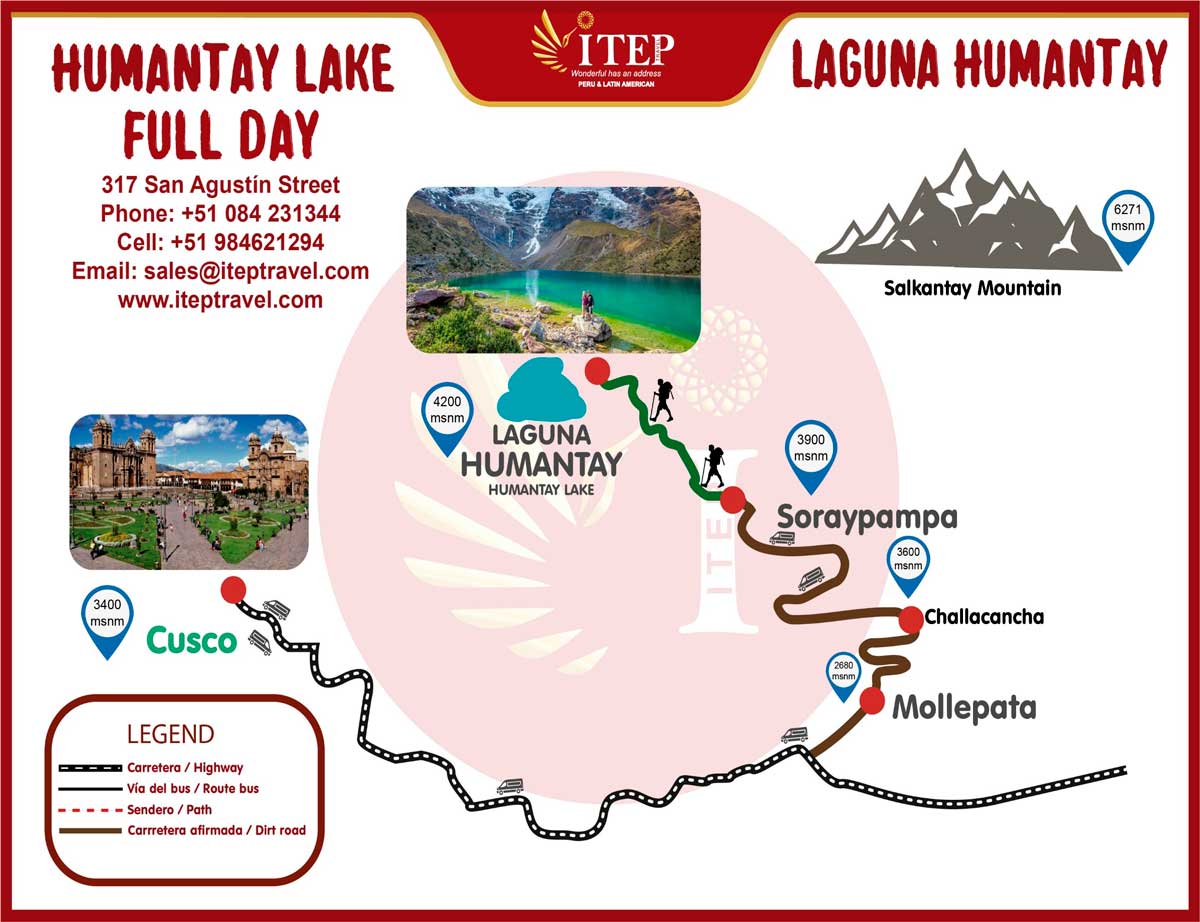 ---
End of our Services
INCLUDES
Pre-departure briefing: You will meet your Humantay lake guide and group in our office for an orientation before your trek. At this time, we will provide you with the duffle bags which will be carried by our Porters. The meeting will be at 6:00 PM the evening before the trip begins. In case you can't come at this time "please let us know" to coordinate another time.
Touristic Transport: You will be picked up from your hotel in Cusco in the morning and will travel by private transportation to Soraypampa Village the starting point of the trek to the Humantay lake trek.
Adventure Experienced Humantay lake trek Tour Guide: English speaking, professionally educated, and official tour guide with tourism certification. They all grew up in this region and have a true passion to teach others about their heritage. Your guide will explain the culture and surroundings along the entire route, including leading your group in ancient ceremonies! He or she will keep you safe, sound, and comfortable on your trek so that you can enjoy your time along the inca path and will ensure you are safe and happy.
Entry ticket to the Humantay lake trail
Meals: 1 Breakfast, 1 Lunch, (Vegetarian, vegan, or special menus are available at no extra cost)
Medical kit and Oxygen bottle: Our crew will bring a first-aid kit, including emergency oxygen bottle.
Transfer back to Cusco: Private touristic transport from Soraypampa to your hotel in Cusco (Day 2)
24-hour guest service: We have telephone service available 24 hours/day for ease of communication and preparation with the agency leading up to your trek.
NOT INCLUDED
Walking Sticks: You can rent a set from our company if you would like.
Personal clothing and gear
Travel Insurance
Tips for our staff: Please note that our agency staff is well paid so please feel free to tip or not as you wish "Recommendation take with you usd 6 to usd 8 per day per traveler for all the trek staff"- Once again it is optional and can vary according your satisfaction.
Additional costs or delays out of control of the management (landscape, bad weather condition, itinerary modification due to a safety concern, illness, change of government policy, political instability/strike, etc.)
YOU NEED
Original Passport
Day Pack
Full rain gear or poncho
Gloves (thin riding and warm gloves)
Trekking pants
Breathable dry fit top-wear
Headlamp
Sunglasses
Hiking socks
Sunscreen
Insect repellent
Bathing suit
Comfortable shoes/flip-flops
Cold-weather jacket
Long-sleeve fleece/sweater Wool hat
Hiking boots
Baseball cap, sombrero and bandana
Casual mountains wear for evenings
Photo/video cameras and chargers
Binoculars
Refillable water bottle (hydration bags are recommended)